Tips on How to Lower Cholesterol Naturally Fast Without Drugs
What is Cholesterol?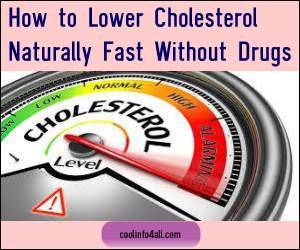 It is a combination of fatty substances and steroid naturally produced by the body. In fact, cholesterol is in every cell of our body. It makes cell membranes less fluid and holds it together without the need for a cell wall. It basically keeps the cell in the body stable. Cholesterol is also a source of energy. The liver produces 80 percent of the cholesterol but it can also be from dietary source. It also helps in digesting fats and in vitamins absorption. If you wanted to know tips on how to lower cholesterol naturally fast without drugs then continue to read this article.
Good vs Bad Cholesterol
There are good and bad cholesterol. Bad cholesterol of Low Density Lipoprotein (LDL) is produced by our body and is also needed but high level of bad cholesterol as mentioned can cause heart disease and clog the arteries. LDL are usually found in animal meat, ice cream, eggs and butter so limit the intake of these food. There is also the good cholesterol or High Density Lipoprotein (HDL) which protects you from heart disease by reducing the bad cholesterol in the body. Foods high in HDL are sea foods like salmon and tuna. Foods high in fiber like fruits and vegetables also helps raise the HDL level in the body. Eating more vegetables and high fiber food and limiting red meat, eggs and sweets can definitely help lower your bad cholesterol.
How to Measure Cholesterol Level
Measuring the cholesterol level is a very important component in maintaining a hale and hearty lifestyle. According to the statistics of the American Heart Association, more than fifty percent of total American population have high bad cholesterol level. This means that every man has a possibility of high risk to any form of heart failure. So as early as possible, it is advisable to measure the cholesterol level to avoid and lessen the risk of having and experiencing heart disease. The simplest and most recommended test to check the level of cholesterol in the body is the lipid profile. To achieve this, a blood test has to be conducted and this gives the doctor information in determining the risk of heart disease development.
What Should My HDL and LDL Cholesterol Levels Be?
HDL Cholesterol Levels:
Less than 40 mg/dL for men = Low HDL (higher risk)
Less than 50 mg/dL for women = Low HDL (higher risk)
40 to 59 mg/dL = The higher, the better
60 mg/dL and above = High HDL (lower risk)
LDL Cholesterol Levels:
Less than 70 mg/dL = Optional goal if you are at very high risk of a heart attack or death from heart attack.
Less than 100 mg/dL = Optimal for people with heart disease or diabetes
100 to 129 mg/dL = Near or above optimal
130 to 159 mg/dL = Borderline high
160 to 189 mg/dL = High
190 mg/dL and above = Very High
Cholesterol Can Be Too Low
Everyone knows that high cholesterol is bad, but very low cholesterol can be unhealthy too. Experts recommend that you keep your total cholesterol under 200 mg/dL, which is about the average for adults. However, below a certain level — generally 160 mg/dL — low cholesterol is associated with health risks, including cancer. Research shows that some pregnant women with too low total cholesterol are more likely to give birth prematurely. Low total cholesterol and LDL levels have even been linked to anxiety and depression.
Tips on How to Lower Cholesterol Naturally Fast Without Drugs | Home Remedies to Lower LDL Cholesterol Naturally
Cholesterol is a fatty and waxy substance naturally produced by our body. Since our own body produces cholesterol it is not really bad for our health. In fact cholesterol is needed to keep the cell wall healthy. It also helps absorb certain vitamins and aids in digestion of fats. However too much or high level of cholesterol is a serious health threat because it can lead to heart disease and stroke.
If you have high cholesterol here are 5 top tips and remedies on how to lower cholesterol naturally fast without drugs at home.
1. Eat food high in fiber
Oatmeal, apple barley are some of the example of food high in fiber. These foods help by decreasing the absorption of bad cholesterol in your bloodstream. It does not only lower cholesterol but high fiber foods are also good anti-oxidants.
2. Eat more fish
More specifically eat at least three servings of fish a week. Fish contain the essential omega-3 fatty acids that reduce the risk of heart disease. You can find the high level of omega 3 in salmon, mackerel, sardines and tuna. Grilled or baked fish is the best way to go.
3. Regular exercise
It is a sure way in lowering cholesterol the natural way and quickly at home and raises your good cholesterol. A simple 30 minutes walk everyday or 5 days a week will benefit you a lot. I you do not have time to go to the gym use the stairs instead of the elevator. It is not just for your cholesterol it is for over all well being.
4.Avoid smoking and too much alcohol
Some say that alcohol can help in how to lower cholesterol naturally at home but that is only in moderation. If you drink too much then you will still be at risk of developing heart disease. If you are not really a drinker you do not have to start drinking just to lower your cholesterol, good diet will do. We all know smoking bring forth and increase risk of disease. It also lowers good cholesterol so avoid smoking at all cost.
5. Limit your intake of saturated fats
If you could avoid eating saturated then do so. Our body already produces cholesterol and eating too much saturated fat will definitely increase your cholesterol level more than our body needed and that will definitely post a lot of problem. Instead of using butter and coconut oil you can switch to using olive oil. Also avoid eating processed meat and chicken and turkey skin.
Basically lowering bad cholesterol levels naturally can be done through balanced diet and exercise. You should also consult your doctor regularly so that you will get the right diagnosis. Hopefullu, the tips on how to lower cholesterol naturally fast without drugs mentioned above will prove helpful to you.